Yesterday was the first day of Fall and I am seriously so excited. I mean, it's still warm here, but you know what? Long sleeves, tights, booties and PSLs are here and I am embracing all of them right now.
So what's been going on? It's pointless to talk about my busy schedule, because it never gets and less busy, instead I'll talk about some other random things that are happening.
1. I haven't posted a weight loss update for weeks 20 and 21, not because I didn't lose anything, but because I couldn't get my blogging self together. BUT, I have lost more weight and I had a nice non-scale victory yesterday when my jeans officially became too big. I was able to pull them on and off without unbuttoning them, which was pretty nice. I guess I'll have to find a new pair. Shucks...
Really though, I have another post planned about this, but what do you do when you're not at goal, but you need clothes, but you don't want too much because you still have 30-ish pounds to go.
Anyways, here's a picture from last year, when I was apparently doing the GYPO work wear challenge and yesterday. I know I gained over the holidays after the picture on the left was taken, but I can definitely see a difference between last year and this year.
Glad I ended up keeping this shirt after I out grew it last year.
2. Some of my favorite artists are releasing albums this fall! Bon Jovi drops "This House is Not for Sale" in October (pre-order now available) AND Meatloaf released "Braver than We Are" on September 16th. Now, we all know that I love me some Meatloaf.
This kind
And this kind.
All of the songs on the album were written by Jim Steinman who wrote the whole Bat out of Hell Album, Bat out of Hell 2, he wrote "Total Eclipse of the Heart", "It's all Coming Back to Me Now", this list goes on and on. Basically, any sweeping epic 11 minute song, Steinman probably had a part in it. Needless to say I was pretty excited to listen to the new album.
Do yourself a favor. Don't.
It's not good. I'm sad, but it's not good....
Me - Kev, let's listen to the first song
Kev - OMG, you paid money for that? It's awful
Me - It really is bad
Kev - Spotify things first before buying them.
Me - Maybe $5 will make it to Meatloaf to help pay rent or something.
Kev - If you want to give Meatloaf $, just Paypal it to him.
3. Still eating my JC food... In my last post I showed how to use JC tacos to make "Nacho Mama's Fajita's". There's a JC contest where people who make-over their JC food can win prizes or free JC food, so fingers crossed the like my creation!
In the mean time, I ate this JC cheeseburger the other day with a drizzle of Salsa Ranch Dressing.
4. Last weekend I knocked an item off my bucket list and went to Drag Bingo. It was a fundraiser for the Alliance of AIDS Services and such a blast. The girls looked amazing and I got to play some bingo.
Sadly we had to miss the cabaret show after the game, Kev and I both missed dinner and were hungry. If we waited until it was over, there would be no food, and no food is no bueno.
5. Now that the weather is getting cooler, and mu ass is getting smaller, It's time to start resurrecting the fashion side of this blog. I've been in this weird place where some of my clothes fit, some don't and it seems like I'm missing a chunk of sizes. Like, what did I wear the last time I was this weight? According to my time hop. I'm tracking about the same weight to the day, that I did when I lost it all 6 years ago. I "should" have clothes from 6 years ago and probably from 2 years ago when I was about this size and I can't seem to find any. I guess I donate them? IDK.
But what that does mean is that I might have to do a little shopping and I signed up for the
GYPO Fall Style challenge
. I figured a capsule wardrobe was just what I needed right now. Minimal pieces, 3 weeks of outfits, fewer things to buy as I get off the last 30 pounds.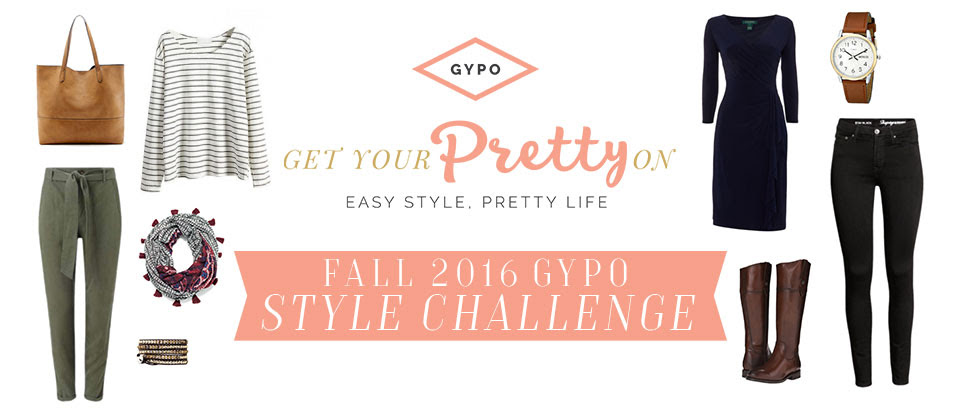 I've done these challenges before and I LOVE them. I took off the spring and summer since I didn't want to buy new clothes then, but I'm back. I highly recommend the challenge to anyone who loves fashion and shopping. It's totally worth it for your own "personal shopper" and the support from the rest of the community. Shopping with a purpose has really changed my shopping habits. I get to look for specific things instead of wandering around not knowing what I'm looking for.
You can sign up using my affiliate link
HERE
and I get a few $ when you do.
Really though, I LOVE this capsule so much and can't wait to find all of my pieces!
One of the items on the list is a black and white striped shirt. These are just the 3/4 sleeve and long sleeve ones.
I have a problem when it comes to stripes....
Have a great Friday everyone!
Linking up with Amanda -
Meet @ the Barre
! AND