I've seen this floating around the internets for a while now and I thought it was a fun idea. If we were having coffee, what would we talk about? Coffee and confessions, why not!
If we were having coffee, you'd probably be a little embarrassed by my drink order. Well, not really my order, it'd be all the clarifying questions I'd ask. Do you have almond milk, how many pumps of syrup do you put in that, is there soy in there? Then I wouldn't order any of that and get a large coffee with cream. Hopefully it's a flavored coffee. If not I'll make a sad face but then again I probably suggested a place with delicious flavored coffee.
If we were having coffee I'd tell you all about my new favorite show, Jersey Belle. Jamie is NJ born and bred, living in Alabama and she makes me pee my pants, and miss the North. Favorite quote? "These people would monogram a panty liner if you'd let them". So true Jamie, so true. BTW, I have no idea how to search for gifs. I KNOW there's one of her making this statement somewhere but damned if I can find it.
Every so often we have to head back to the land of real bagels and diners. I think a trip to NYC and NY are in our near future.
If we were having coffee, I'd tell you how one of my employees quit the other day. We had a little come to Jesus meeting and they quit 2 hours later. I really felt like I'd leveled up or unlocked a new skill, People don't usually quit immediately after. It usually takes a little longer than that. Maybe I'm getting better at this!
(That would have been really impressive)
If we were having coffee I'd tell you that I sometimes develop irrational dislikes for people, Not people I know, but celebrities. I can't staaaaaand Eric Whitacre. For those of you who aren't familiar, Whitacre is a well known composer of toodely doo music. I don't sing in groups but know a lot of people who do and EVERYONE loves his music. Seriously, EVERYONE. I'd rather take a sharp stick to my ear than sit through one of his compositions.
(I hate even posting a link to one of his compsositions, but you have to understand.)
Kev has the same issue. He can't stand Stacy London from "What not to Wear". Like really, really can't stand her, and for no good reason. A few years ago a new outlet mall opened up near us and she was there on the Grand Opening. I turned away for a minute and he made his way to where she was signing autographs. I found him just as he announced, "Wow, she looks tired, do you think she looked tired?" Sign, one of the worst things you can say to a woman, and I know she heard him. He hates Sarah Jessica Parker too,
(Sorry, this just makes me chuckle)
If we were having coffee, I'd tell you that I've been a little sick the past few days. I haven't been to the gym since Thursday and haven't ran in even longer. I skipped my 6 miler on Sunday and I'm really not happy about it. I know running would have been a really bad idea but I need to take advantage of the beautiful running weather we've been having. I woke up on Sunday and almost cried because it was perfect. Overcast and 60s :(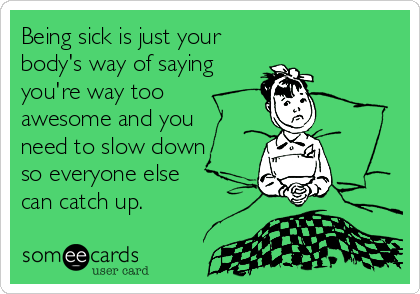 Then when we finish, I might get another coffee to go. Because, you know, more coffee.
Linking up with Vodka and Soda and Fitness Blondie!