Hello Friday!! I don't know about you but I am so ready for the weekend! Kev is out of ton a little and it's just me and Cleo and the cats. In case anyone is considering coming over to rob me... my really cute dog is super protective and doesn't take kindly to strangers.
If you happened to come over from the Angelos article, WELCOME! Thank you for taking the time to look at the magazine and actually type the blog address in your computer! The original blog post that started the whole thing can be found
here
. Again, thanks for stopping by!
On to 5 thing Friday! It's super random... love me.
1. If you hadn't deduced from my last post that I've been doing a lot of interviewing, you're right. So many people and so many bad resumes. I confess, I judge your grammar and sentence structure. Especially on your resume. My friend was telling me that when she interviews her favorite question to ask is, "What would you do in case of a zombie apocalypse?" I have 2 interviewees tomorrow and believe me, I'm asking it to both of them.
2. These are AMAZING! I'm typing this post with sea salt, truffle delicious fingers. Go to Trader Joe's, buy them and eat them.
3. Yesterday I made breakfast for my team. Ham, egg and cheese bake, apple french toast, blueberry muffins and lemon bread. You know what they like the best? The egg bake, "OMG, what was in it?" Eggs, cheese, ham, salt and pepper. "Ohhhh it must be the salt and pepper". Are there people in this world who DON'T put salt and pepper on their eggs???
4. A few weeks ago I had a nutritionist do my macros and she told me to eat 148 grams of carbs per day, Do you know what happens when I eat 148 grams of carbs? I am STARVING all the time. Carbs make me more hungry which is absolutely ridiculous. For 3 weeks I couldn't stop eating. 2 weeks ago I gave up on the macros and went low carb. Since then I'm considerably less hungry and my pants are fitting much better. Kev went low carb and in 9 days lost 10 pounds.... Men...
5. As part of my #BeMoreCreative resolution I started doing something I hadn't done in a while, cross stitch. But I didn't want some boring cats/lighthouse/rainbow scene. Instead I found
Grannie Panties
on Etsy. Seriously, this is some needlepoint I could get into.
This will be my first creation.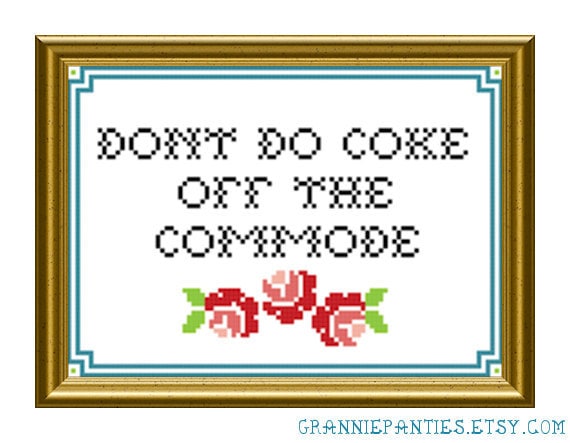 It's going to be hung in my downstairs bathroom.
Stop by and say hi to Amanda! Have an awesome Friday!